Case Study: CardAq
CardAq Implements DECTA White Label Gateway in Just 4 Weeks.
July 20, 2023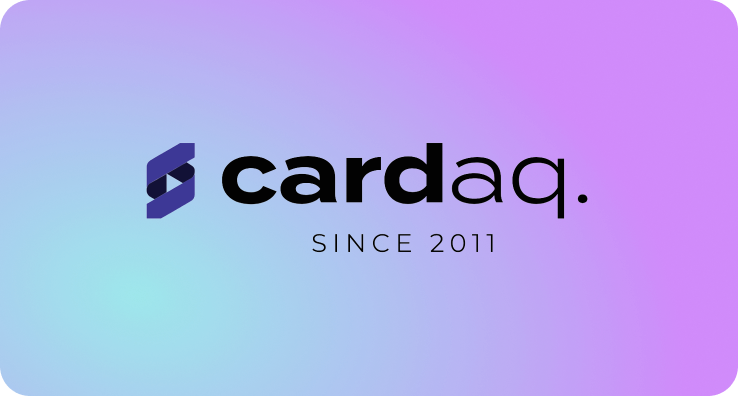 Empowering CardAq's Expansion
CardAq, a UK-based fintech, had been partnering with DECTA for three years, initially using DECTA's Mastercard, Visa, UnionPay Acquiring and Issuing Processing services. As CardAq began to rapidly grow, they sought to broaden its acquiring services not only to Merchants, but also to Payment Service Providers (PSPs) and tap into a larger market. However, their payment gateway partner at the time did not have the necessary functionality ''partner account management'' so they needed a quick and reliable white-label gateway solution. Impressed with the quality of DECTA's technical processing services, CardAq confidently embraced DECTA White Label Gateway as the ideal solution they had been seeking.
Introducing DECTA White Label Gateway's Partner Accounts Feature
Within a remarkable four-week timeframe, DECTA swiftly deployed the fully featured and cloud-based white-label gateway solution for CardAq. The solution seamlessly integrated with CardAq's existing infrastructure and allowed for customizable branding to maintain their corporate identity. Moreover, the inclusion of the "partner accounts" feature in DECTA's white-label gateway solution proved to be a game-changer for CardAq's expansion into providing services to various segments - Merchants, PSPs, sales agents and marketplaces.
The partner accounts feature allows for dedicated sub-accounts, granting PSPs access to a tailored toolkit which then allows them to work directly with sub-Merchants. This toolkit enables PSPs to set permissions, manage data and payment flow, and delegate essential back-office tasks. By offering this dedicated toolkit, CardAq simplifies PSP operations, eliminates the need for PSPs to build their own infrastructure, and ensures a consistent experience for all sub-merchants. The streamlined onboarding process through a single integration point accelerates time-to-market for CardAq and PSPs, enabling rapid expansion and revenue generation.
DECTA's White Label Gateway solution yielded impressive results for CardAq
Comprehensive ready-to-market Payment Gateway: DECTA offers a complete ready-to-market solution that offers a feature-rich platform designed to meet global payment acceptance needs. The solution provides the necessary functionality to effortlessly process payments worldwide. DECTA stays ahead of the curve by incorporating the latest trends and adhering to market regulations, ensuring compliance and innovation.
Customizable Configuration: Our approach is to ensure that the payment gateway is built based on the client's requirements. Moreover, the solution is aligned perfectly with CardAq's corporate style, reinforcing their brand identity and delivering a consistent customer experience.
Back Office: DECTA's back office allowed CardAq to create and configure partner accounts, manage data and payment flow, and simplify operations for both CardAq and their partners.
Seamless Account Management: DECTA's back office facilitated effortless creation and configuration of partner accounts, ensuring smooth collaboration with PSP partners and merchants. It is a single access point to all your sub-merchant data and account management tools.
Our partnership with DECTA has thrived over the past three years, during which DECTA has consistently demonstrated their technical expertise. We are very pleased with the exceptional services they have provided and eagerly anticipate many more years of successful collaboration.
Hugo Remi
Chief Executive Officer of CardAq
We are delighted to embrace the challenges and fulfill the most demanding requirements of our clients within tight deadlines. Working with CardAq has been an exceptional opportunity, and we take pride in our ability to deliver prompt services and support that align with their evolving needs.
Santa Kirsbauma
Board Member, Product Offering at DECTA
About CardAq
With over 12 years of experience, CardAq is a leading UK-based fintech company offering professional acquiring solutions for low and medium-risk businesses. Their comprehensive FinTech tool empowers clients to accept and process transparent payments worldwide. In addition to acquiring services, CardAq supports fraud prevention, invoicing, virtual and physical card issuance, frictionless checkout experiences, financing, business spend management, and more.
Conclusion
DECTA's White Label Gateway solution empowered CardAq to extend their services to PSPs, agents and marketplaces, and drive rapid business growth. Within less than a month, DECTA delivered a fully featured, customizable solution that seamlessly aligned with CardAq's corporate style. Leveraging DECTA's technical expertise and efficient implementation process, CardAq successfully achieved their goals. By streamlining operations, offering scalability, and providing unwavering support, DECTA's solution has become an integral factor in CardAq's continued success.